Digital Position Readout, Bench Lathe Tailstock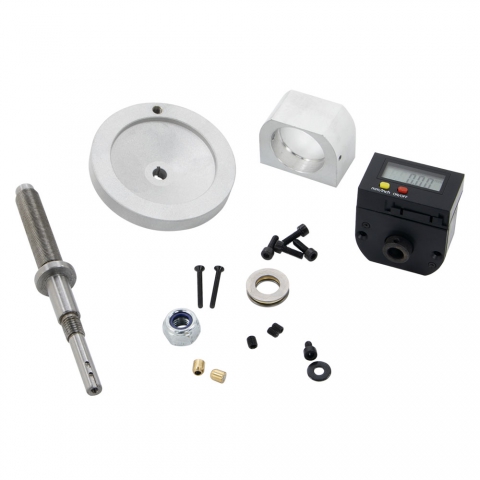 This DRO kit is specifically made for the C4/SC4 bench lathe tailstocks
Mounts right to the back of the tailstock to give you accurate quill depth readings
Resolution: 0.0001", accuracy: 0.001"
Buttons for on/off, zero, and inch/mm
Handwheel: 80 mm OD, 8 mm bore, 2 mm key
This digital position readout for the tailstock works with C4 lathes made by SIEG.
Designed for the C4 and SC4 class of bench lathes including HiTorque bench lathes.
Kit includes a digital readout, handwheel, bracket, feed screw thrust bearing and fasteners.
Handle of handwheel is not provided in kit however the handwheel bolt and handle from your machine should fit. The new handwheel, like the original, has a 6mm thread. For new handle parts, see related products link.
See the Compatibility tab for machines that work with this product.
Specifications

| | |
| --- | --- |
| Repeatability | 0.00050" (0.0127 mm) |
| Resolution | 0.00010" (0.0025 mm) |
| Accuracy | 0.00100" (0.0254 mm) |
| Technology | Rotary encoder |
| Clear to Zero | Yes |
| Inch/mm Display | Yes |
| Made In | China |
Compatibility
This product works with these LittleMachineShop.com products:
This product works with the following lathes. (If your machine is not on this list, we cannot verify compatibility.)
LittleMachineShop.com 3536 HiTorque 8.5x16 Bench Lathe
SIEG C4 8.5x16 Bench Lathe
SIEG SC4 8.5x16 Bench Lathe
Travers Tools OT218410 OTMT 8x16 Bench Lathe
LittleMachineShop.com 3540 HiTorque 8.5x20 Bench Lathe
LittleMachineShop.com 3595 HiTorque 8.5x20 Deluxe Bench Lathe
LittleMachineShop.com 7500 HiTorque 8.5x20 Bench Lathe
LittleMachineShop.com 7550 HiTorque 8.5x20 Deluxe Bench Lathe