Starter Kit, Mill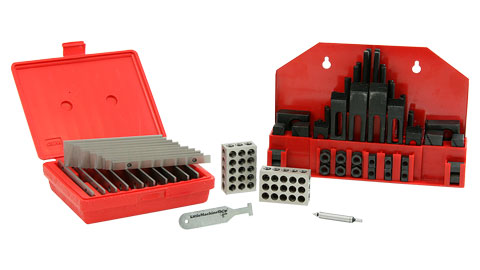 Clamping kit for 7/16" (12 mm) T-slots
Thin parallels (6" long)
1-2-3 blocks
Edge and center finder
T-slot cleaner
Part Number: 1262
Weight: 21.1 lb
$
99.95
Value Price
Purchased individually $120.75

This milling machine kit contains the basics you need to start using your new mini mill.
This Mini Mill Starter Kit includes:
T-Slot Clamping Kit 7/16" - 58-piece clamping kit 3/8"-16, 7/16 T-Slot. This clamping kit fits the 12 mm T-slots on the mini mill. The clamping kit includes 24 3/8-16 studs, 12 step blocks in pairs, 6 T-slot nuts, 6 flange nuts, 4 coupling nuts, and 6 end hold downs. Clamping kit comes in a wall mount rack.
Thin parallels combo set - 10 matched pairs of high grade steel parallels, precision ground and hardened. Parallels are 1/8" thick and 6" long. Heights are 1/2", 5/8", 3/4", 7/8", 1", 1-1/8", 1-1/4", 1-3/8", 1-1/2", and 1-5/8". Made of high grade alloy steel hardened to 52 to 58 Rc. Parallel within 0.0002" on the top and bottom. The pairs are matched in height within 0.0004". Set comes in a durable plastic fitted case.
1-2-3 Blocks - These precision 1-2-3 blocks are ground and case hardened on all sides to 50-60 Rc. The blocks are 1" by 2" by 3". They are parallel within 0.0002", flat within 0.0002" and square within 0.0002". Each set includes two matched blocks. The blocks have 23 holes through them, 5 are threaded 3/8"-16 NC.
Edge and Center Finder - This 3/8" diameter combination edge and center finder helps you locate work on your mill. The edge finder end has a 0.200" diameter cylinder to quickly find the edge of a work piece. The center finder end tapers to a point to locate holes. The edge and center finder is hardened and ground all over.
T-Slot Cleaner - Use this T-slot cleaner to clear the debris from the T-slots on your mini mill and bench mill. Made for LittleMachineShop.com specifically to fit the Mini Mill and Bench Mill.
This product contains the following items:

| | Description | Qty |
| --- | --- | --- |
| | Blocks, 1-2-3, P/N 1233 | 1 |
| | Clamping Kit, 7/16" T-Slot, P/N 1144 | 1 |
| | Edge and Center Finder, 3/8" Shank, P/N 1240 | 1 |
| | T-Slot Cleaner, 7/16" T-Slot, P/N 4991 | 1 |
| | Thin Parallels, 6" Long, 10 Pairs, P/N 1232 | 1 |
Compatibility
This product works with the following mills. (If your machine is not on this list, check with us before ordering.)
Bolton XJ-9510 Mill/Drill
Clarke CMD300 Milling Drilling Machine
Grizzly G8689 Mini Milling Machine
Hare & Forbes HM-10 Mill/Drill
Princess Auto 8507667 Powerfist Mini Mill
SIEG X2-MT3 Mini Mill
Micro-Mark 82573 MicroLux Milling Machine
BusyBee CX605 Craftex Mini Mill
Cummins (Tools Now) 7877 Mini Mill
Eastwood 32498 Mini Mill
Harbor Freight 44991 Central Machinery Mill/Drill
Homier 03947 Speedway Mini Mill
Northern Tool 49657 KLUTCH Mini Mill
Penn Tool Co XJ-9510-1 Precise Mini Mill
SIEG X2-R8 Mini Mill
Travers Tools OT2213 OTMT Mini Mill
SIEG X2P Mini Mill
LittleMachineShop.com 4962 SIEG Mini Mill
SIEG X2D Mini Mill
SIEG X2L Mini Mill
WEN 33013 WEN Mini Mill
SIEG X2LF Mini Mill
BusyBee CX612 Craftex Mini Mill
SIEG SX2 Mini Mill
Micro-Mark 84630 MicroLux Mini Mill
LittleMachineShop.com 3900 HiTorque Mini Mill
SIEG SX2L Mini Mill
LittleMachineShop.com 3960 HiTorque Mini Mill
LittleMachineShop.com 3990 HiTorque Mini Mill
LittleMachineShop.com 4190 HiTorque Mini Mill
SIEG SX2LF Mini Mill
Grizzly G0781 Mill/Drill