Chip Shield, Magnetic for 4" - 8" Vise 5179
(Discontinued)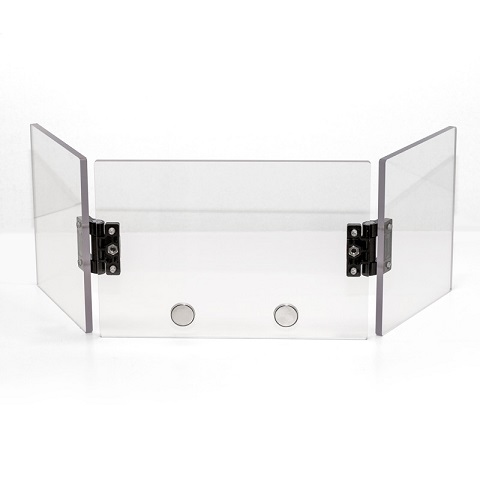 The Chip Shield uses strong Neodymium magnets to mount to the front or back of a machine vise.
Convieniently remove with out the hassle of fussing with tools or screws
Adjustable friction hinges allow setting the side panels at any angle within 150 degree
Compatible with any 4"- 8" machine vise with a flat surface on either end
Approximate Dimensions: 18 5/8" x 5 3/4″ x 1/4″, Made in the USA
Part Number: 5179
(Discontinued)
Weight: 1.45 lb
Price: $69.95


This is a great add-on to any 4" to 8" milling vise in your shop. This quickly attaches to a vise to provide a reliable and adjustable chip shield. It's great for fly cutting and other "messy" jobs.
Use caution when placing the Chip Shield near the vise or any other metal object as The Neodymium magnets are very strong and will act to rapidly close the gap if they are unintentionally placed too close to the object.
To assemble, select the side of the center panel where the magnets are flush with the surface and lay this side facedown on a flat surface. Use the supplied machine screws to attach the supplied hinges joining the center panel to each side panel. Start all 4 screws in each hinge before tightening, then tighten the screws with the hinge square to the panel, and the panels square to each other. Turn the torque adjustment screw on the hinge to the desired friction when moving the side panels.