Layout Package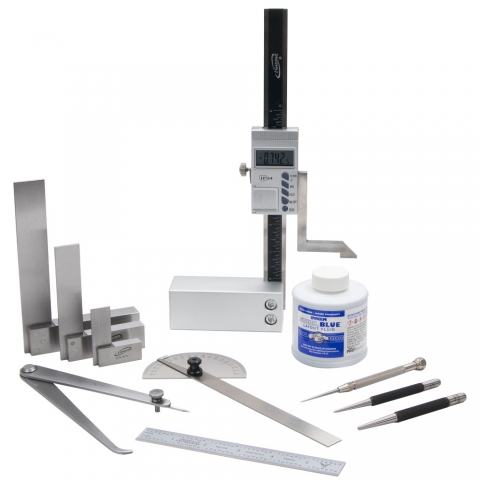 Layout die, straight edge, and scriber
Hermaphrodite caliper, protractor, and machinists squares
Digital height gage
Prick punch and center punch
This kit includes the layout tools you need for machine shop use.
Layout is the process of transferring measurements from a drawing to a workpiece.
Layout is an important part of machining especially when working with castings, forgings and weldments. It is important that you lay out carefully to make sure you have enough material to "clean up" all important surfaces.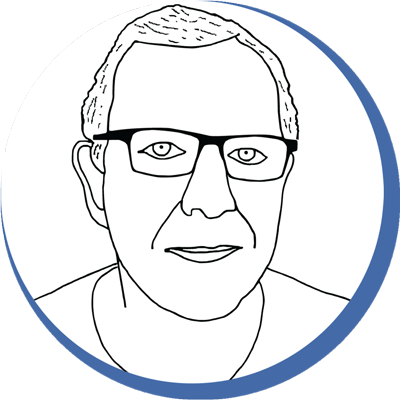 Chris' Tips
Most layout work is done on a flat surface. This is traditionally a granite surface plate. Granite surface plates are very flat and very stable. Because surface plates are heavy, the shipping cost may be more than the cost of the surface plate itself. This may make the total cost prohibitive for a home shop machinist. There are several more economical solutions for hobby work where absolute accuracy is not required. You can use a sink cutout from a granite countertop. You can also use a piece of thick (3/8" and up) piece of plate glass. Both surfaces are flat enough (sub 0.001") to use for most work.Here are some tips on basic layout tools.
This product contains the following items:

| | Description | Qty |
| --- | --- | --- |
| | Caliper, 6" Hermaphrodite, P/N 3688 | 1 |
| | Center Punch, Starrett, P/N 4086 | 1 |
| | DYKEM Steel Blue Layout Fluid, P/N 4741 | 1 |
| | Height Gage, 6", Digital, iGaging, P/N 5870 | 1 |
| | Machinist Square Set, 2" 4" and 6", P/N 5874 | 1 |
| | Prick Punch, Starrett, P/N 4085 | 1 |
| | Protractor, Semi-Circle Head, Stainless, PEC, P/N 2751 | 1 |
| | Scriber with 2-3/8" Point, Starrett, P/N 1824 | 1 |
| | Steel Rule, 6" 31 (in/mm) Rigid, PEC, P/N 2736 | 1 |