Insert, APKT1003 Square Shoulder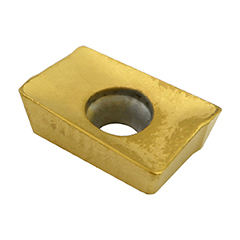 Coated Carbide
85° Parallelogram, 11° Relief
Double Countersink / Single-sided Chipbreaker
0.265" (17/64") IC, .137" Thickness
.0156" (1/64") Radius
This is the correct insert for the Square Shoulder indexable end mills: 5428, 5429, 5430, and 5929.
This insert is grade XAF798 which is a combination of 2-4 um nc-TiAIN coating and ultra-fine carbide substrate of high strength and toughness.
It is suitable for milling from light to medium load and bore machining of all kinds of materials, turning of stainless steel from finishing to semi-finishing and roughing turning of high-temperature alloys.
Suitable for finishing operations under unstable cutting conditions with a light cutting force.
Works better for intermittent cutting by providing a wide cutting zone for steel materials.
Compatibility
This product works with these LittleMachineShop.com products: