Engineers Precision Data Pocket Reference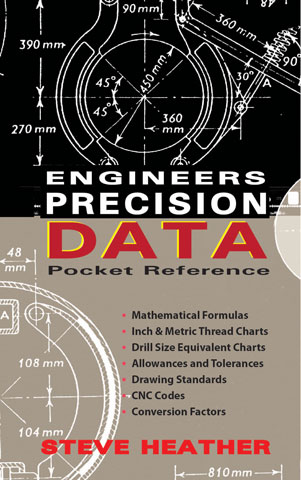 Engineers Precision Data Pocket Reference
By Steve Heather
72 Pages, softcover, 4" x 6.5"
ISBN 978-0-8311-3496-9
Copyright 2014
A pocket-size reference that has all the fundamental data that engineers need in their daily work. Taping and drilling charts, hole coordinate charts with common sizes already worked out, speeds/feeds, material specs, drawing symbols and standards, CNC machine codes, plus much more. Ideal for mechanical, manufacturing, and design engineers, draftsmen, toolmakers, machinists, students, and hobbyists.
This pocket reference is compact, lightweight, easy-to-carry and really does fit in your pocket.
It contains the essential data you need practically every day, yet is uncluttered by extraneous information.
It is organized so you can easily locate the data you need very quickly.
It contains data not found in similar books, such as thread charts showing all effective sizes.
Mathematical Formulas & Measurement
Screw Thread and Drill Size Equivalent Charts
Fasteners
Allowances and Tolerances
Properties and Testing of Materials
Drawing Standards
Computer Numerical Control
Conversion Factors
Index