Tooling Package, HiTorque Deluxe Bench Lathe Premium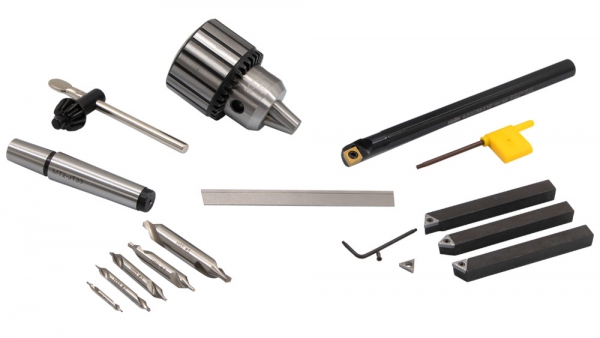 Premium tooling package for deluxe bench lathe
1/2" professional grade drill chuck, 2MT standard to 33JT drill chuck arbor
1/2" indexable boring bar - CCMT inserts
3/8" indexable TCMT carbine inserts
Premium P1 cut-off blade, 5 center drills
This tooling package contains premium quality tooling for a C4, SC4 or LittleMachineShop.com HiTorque bench lathes.
The 1/2" capacity professional grade drill chuck is mounted on a short 2MT shank for the mini lathe. Specifically designed for the mini lathe tailstock, the rated capacity is 1 mm (0.039") to 13 mm (0.512"). All working parts are hardened. Chuck key included. Number 33 Jacobs taper mount. This chuck is comparable to a Jacobs 34-33 heavy duty drill chuck, including the runout specification of 0.004" (0.10 mm) or less.
Indexable turning tools are made by Arthur R. Warner Co. in the USA. These precision tool holder kits use carbide inserts and include three styles of tools, AR right hand, E Neutral (threading tool - 60 degree angle), and AL left hand. Kit includes three tool holders, TCMT inserts, one extra TCMT-21.52 carbide insert, one extra Torx screw, and one wrench.
1/2" diameter indexable boring bar uses CCMT inserts and is 7" long. The minimum bore diameter for this is 0.625". The boring bar takes CCMT 32.51 or CCMT 32.52 inserts.
The premium P1 parting blade is 1/16" x 1/2" x 4-1/2" and made from M2 HSS by Arthur R. Warner Co. T-shape parting blades provide great side clearance.
Five sizes combined drills and countersinks made of high speed steel. Sizes 1, 2, 3, 4, and 5 with 60 degree counter sinks.
This tooling package does not include a quick change tool post because the HiTorque Deluxe Bench Lathe is equipped with a QCTP.
This product contains the following items:

| | Description | Qty |
| --- | --- | --- |
| | Arbor, Drill Chuck 2MT Standard to 33JT, P/N 2955 | 1 |
| | Boring Bar, 1/2" Indexable, P/N 1780 | 1 |
| | Center Drills, HSS, Set of 5 (Numbers 1-5), P/N 1230 | 1 |
| | Cut-Off Blade, P1, M2 HSS, P/N 1728 | 1 |
| | Drill Chuck, 1/2" Professional Grade, P/N 3153 | 1 |
| | Turning Tools, 3/8" Indexable, Carbide, Triangle Inserts, A R Warner, P/N 4132 | 1 |