Lathe Chuck, 3-Jaw 10", Front Mount Reversible Jaws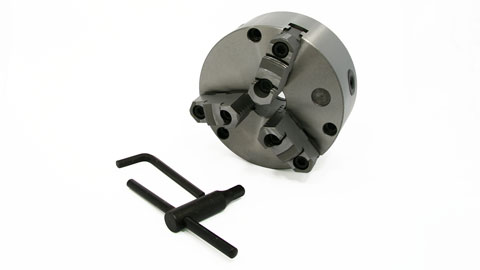 3-jaw self centering lathe chuck
10" (250 mm) diameter
Includes chuck key and reversible top jaws
Plain back mounting with bolts thru from the front
High quality steel, hardened and ground
This 10 inch 3-Jaw self-centering lathe chuck includes a chuck key, reversible top jaws, and mounting bolts.
This chuck has a 3.15" (80 mm) through hole. The chuck can hold work up to 9.84" (250 mm) in diameter.
This is a plain back chuck and requires a backplate adapter to mount it. Front mount chucks are designed to be used with rotary tables and other devices where back mounting chucks cannot be used.
The radial runout of a test bar held in this chuck, when the chuck is mounted true, is 0.004" maximum.
This item ships directly from our supplier in California to you. It might be a day or two longer before it ships, and you will receive it in a separate package from other items on your order. You might receive this item a few days before or a few days after you receive items shipped from our warehouse.