Replacement Parts For Bench Top Mills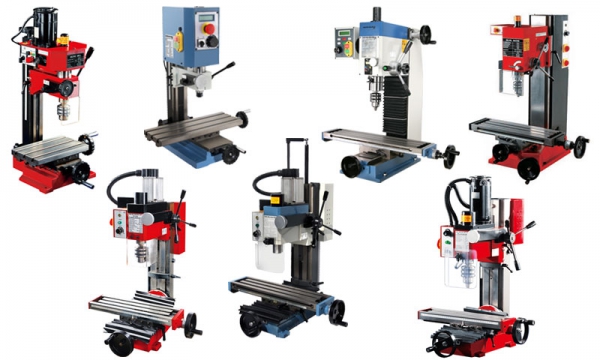 Many of the bench top milling machines (micro mills, mini mills, and bench mills) sold in the United States and Canada are manufactured in China by the Shanghai SIEG Machinery Co., Ltd. (SIEG). In addition to our own HiTorque mills, SIEG provides mills to companies like Grizzly, Harbor Freight, and Micro-Mark.
LittleMachineShop.com sells replacement parts for many of these machines. We have done extensive cross-referencing between SIEG factory parts and the users manuals for SIEG-made mills. With this information, you can look up replacement parts by your specific machine make and model and find individual replacement parts by their drawing number in the manual. For many older machines we have re-mastered hard-to-read drawings and these drawings are available via a link on the search results page.
Can't find replacement parts for your old mill? Does your mill's manufacturer no long support your machine or carry the gears, belts, spindle bearings, or controllers? Chances are we do! And once you've found all the parts to bring your mill back to top quality, check out our wide selection of tooling, accessories, and conversion and upgrade kits. LittleMachineShop.com strives to be your premier source for tooling, parts, and accessories.
Don't see your lathe in the table below? To find parts for other brands, identify a machine in the table that is like your machine. While it is likely that the parts are interchangeable, to be sure, simply email a link to your model on an internet site and we will tell you which machine is compatible with your model.
Time for an upgrade? Check out our HiTorque Mills for best-in-class features at an affordable price.
Mills in Our Replacement Parts Database

Note: All mills have an R8 spindle except where indicated with a footnote.
1 Morse Taper 2 spindle
2 Morse Taper 3 spindle
3 ER-16 spindle
To search for replacement parts

Select the dealer
Select the model
Click Search

On the search results page, parts are listed in order by the item numbers on the parts drawing. There is a link to a parts diagram at the top of the search results page.

Parts and accessories that do not have item numbers are at the top of the list in the "No Number" section. Lathes under the brand "Various" utilize SIEG's factory drawings for the US market.
Model List
Here is a list of the mills for which we have parts diagrams.