Accessory Package, 4" Spindle Flange, Mini Lathe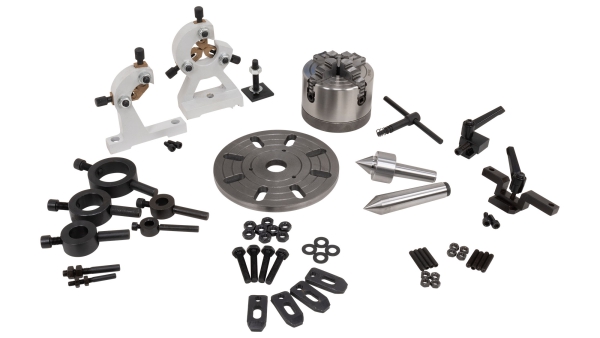 Complete set of mini lathe accessories
Fully equip your mini lathe
Steadies, centers, chucks, locks and dogs
Part Number: 5371
Weight: 19.8 lb
$
369.27
Value Price
Purchased individually $409.27
This product is currently backordered.
Estimated availability:
18-Oct-2022
What is "estimated availability"?
Click this button if you want to receive an email notification when this product becomes available.

This package includes all the accessories you could want to fully equip your mini lathe.
This package is for mini lathes that come from the factory with a 4" lathe chuck.
This product contains the following items:

| | Description | Qty |
| --- | --- | --- |
| | Carriage Lock, Mini Lathe, P/N 2977 | 1 |
| | Carriage Stop, Mini Lathe, Adjustable, P/N 2705 | 1 |
| | Clamping Kit, Mini Lathe Faceplate, P/N 2644 | 1 |
| | Dead Center, 3MT, P/N 1188 | 1 |
| | Faceplate, Mini Lathe, 100 mm Flange, P/N 5123 | 1 |
| | Follower Rest, Mini Lathe, P/N 1198 | 1 |
| | Lathe Chuck, 4-Jaw 4", Independent, P/N 1588 | 1 |
| | Lathe Dog Set, 0-40mm, P/N 4464 | 1 |
| | Live Center, 2MT Short, P/N 1189 | 1 |
| | Steady Rest, 0-1" Mini Lathe, P/N 1197 | 1 |
| | Studs & Nuts, M8, P/N 5184 | 1 |
Compatibility
This product works with the following lathes. (If your machine is not on this list, we cannot verify compatibility.)
LittleMachineShop.com 5100 HiTorque 7x16 Mini Lathe
LittleMachineShop.com 5200 HiTorque 7x16 Mini Lathe