Clamping Kit, 3/8-16 Thread, Professional Grade 16-Piece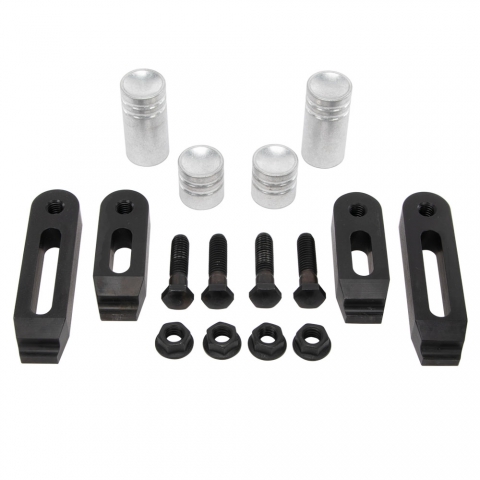 4 toe clamps
4 heel step blocks
4 3/8-16 threaded bolts
4 3/8-16 flange nuts
Use on 7/16", 12 mm, and 1/2" T-slots with your studs and T-slot nuts
This jig bore style clamping kit is made in the US of case hardened steel.
It includes 4 CNC machined case hardened toe clamps. There are two large and two small toe clamps with thin "toes" to get into tight spaces.
There are 4 aluminum heel step blocks with end radius that are CNC machined and tumble finished.
Included are 4 3/8-16 threaded bolts with a CNC machined radius on the head and black oxide finished for supporting the toe clamps.
And 4 hardened flange nuts.
This item ships directly from our supplier in Kentucky to you. It might be a day or two longer before it ships, and you will receive it in a separate package from other items on your order. You might receive this item a few days before or a few days after you receive items shipped from our warehouse.